Q.WHY IS A PRELLWITZ HOME A GOOD INVENSTMENT?
A. An article in the National Home Builders Magazine once stated that,
"For the average working class person, the single largest investment they will make in their lifetime is buying or building their house."
---
Prellwitz Construction keeps that in mind throughout your building or remodeling process. From designing to drafting, to construction, PC strives to capture your interests, feeling, and goals of your new home. Whether it is building a custom home to your individual needs or choosing one of our model homes, PC has a house for you.
Prellwitz Construction brings efficiency, beauty and affordability to every building and remodeling project.
Q. ARE YOU UP-TO-DATE ON THE LATETST CONSTRUCTION METHODS?
A. Prellwitz Construction President Mark Prellwitz is a board member of the Topeka Home Builder's Association. Prellwitz Construction is also a member of the National Association of Home Builders. In conjunction with these associations, Prellwitz Construction keeps current with industry standards, construction specifics, and materials. We apply these to each and every home we build or remodel, regardless of the price.
Prellwitz Construction can help you locate and purchase a lot site. PC has built homes both inside and outside of the city limits. North, South, East or West: we can help, based on YOUR requirements.
If you have a floor plan you like – GREAT!
If not – we can help you custom design one. Call or write us today.
Q. WHY SHOULD I CHOOSE PRELLWITZ CONSTRUCTION?
A. With more than 60 years of building experience, The Prellwitz Construction team understands how to make  your dream home a reality. We are available to meet with you for a free evaluation  of your land or a property you are considering buying to build on. We will collaborate with you for your valuable input to design and draw a new home that is within your budget. We spend the time with you upfront, to ensure you have all those perfect details worked through that will make your home, the home of your dreams!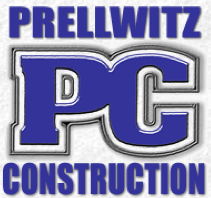 785-806-9005
mark@prellwitzconstruction.com